I just attended a patient who had breakfast 2-3 hours after getting up, so I asked her: do you feel anxiety in the afternoon?
At what time should you have breakfast
People with Fat Brain have decreased serotonin and therefore wake up without hunger but feel anxiety in the afternoon.
Medical advice to increase serotonin
Breakfast upon waking (maximum 60 minutes)

You can take the milkshake Ni Una Dieta Más when you get up and finish having breakfast later

Eat protein-rich foods

Avoid consuming excess carbohydrates

Do intense exercise for 5 min a day
I recommend these high protein breakfasts .
DAY

BREAKFAST

Monday

Omelette de Chocolate:

The more protein you eat, the less anxiety you will have in the afternoon.

That's why I recommend this Omelette.

Do it only with eggs and the whey protein of Ni Chocolate. One more diet. Also, you should eat any dessert that has caused you yesterday.

Tuesday

Breakfast against anxiety:




Yesterday you had anxiety in the afternoon for not eating enough protein.

Today I recommend you heat an avocado and replace the seed with salmon and cheese.




Add your favorite dessert so that it does not provoke you in the afternoon and take a glass of the whey protein shake.

Wednesday

Breakfast against the brain of Gordo:




Because of your Brain of Gordo today you do not feel hungry in the morning, but you will have in the afternoon.

To control it, have an Omelette with extra protein.




Dip salmon, cheese and the whey protein shake.

Do not forget that you must eat any sweet that has caused you yesterday.

Thursday

Empanadas with extra protein:




Even when you're satisfied, have a little more breakfast so you do not feel anxious in the afternoon.

I recommend stuffed empanadas with plenty of meat, minced vegetables and mushrooms.

Drink a coffee with milk and a spoonful of the whey protein shake.

Friday

Omelette full team:




Breakfast many proteins is the key to lose weight.

I recommend this omelet with mushrooms, paprika, asparagus, cheese and (my personal touch) lentils that take it to another dimension in flavor and texture.

It is a criminal who recommends throwing the yolk (it is the best part of the egg).

You must also eat any dessert that has caused you yesterday.

Saturday

Protein burrito:




You must eat breakfast when you get up, if you take too long it is no longer good for controlling anxiety.

Prepare a burrito or arepa with shredded chicken, lentils, avocado, tomato and cheese.




Do not even think about doing fasting exercises because you get fat.

Sunday

Protein pancakes:




Yesterday you did not have enough breakfast and that's why you had anxiety.

That's why we eat these pancakes that control the Brain of Gordo.

Mix 1 cup of the whey protein, 1 cup of milk, 2 eggs, 1 tablespoon of oil, ¼ of a tablespoon of baking powder and a pinch of salt in the blender.

After you have the pancake ready, melt dark chocolate of> 70% cocoa.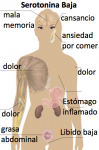 Symptoms associated with low levels of Serotonin
Anxiety about eating carbohydrates

back pains and fatigue (fibromyalgia)

bad memory

decreased libido

insomnia

headache

constipation and inflamed stomach
How to increase serotonin
Serotonin increases during the fertile days and decreases during menstruation, rises in the morning and descends with the evening. Just as bricks are needed to build a wall, Tryptophan is needed to make Serotonin.
Although drugs such as Terfamex (phentermine) try to increase serotonin this only occurs in the presence of enough tryptophan and that's why antidepressants almost never work.
Foods to improve Serotonin
Good to raise Serotonin

Intermediate to raise Serotonin

Causes decreased Serotonin

Rich in Tryptophan

g / 100g

Intermediate in Tryptophan

g / 100g

Low in Tryptophan

g / 100g

Whey protein

(Not one more diet)

4.1

cheese

0.9

Wholemeal bread)

0

Milk

1.8

Dark chocolate

0.8

Fruits

0

Egg whites

1.6

Fish

0.5

Oats, Cereals

0

Turkey, Chicken

1.1

Nuts

0.4

Rice

0

Beef

1.0

Soy

0.3

Soft drinks, Gatorade (sugary drinks)

0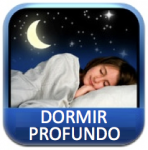 Some patients have low serotonin because of their sleeping pattern. That's why I prepared this sleeping treatment application  so  you can reach the deepest levels of sleep.
Medications that affect Serotonin
Some medications such as atorvastatin, omeprazole, Postinor and glucosamine can cause a decrease in serotonin. Nor is it recommended to use some weight loss medicines such as: Sibutramine, Carnitine. While Metformin (Glucofage) can be beneficial.
Dr Salomon Jakubowicz
Abdominal fat: how to lose weight (without going to the doctor)
Fibromyalgia: the treatment (before going to the doctor)